PRICING & TERMS
This trip is limited to 30 people.
The tour cost is $3,999 per person (pp), based on double occupancy. Recommended gratuities are $18 per person per day. (This gratuity fee includes gratuities for baggage handling, the guides, drivers, and meals.) Government taxes and other fees total $193. Subtract $100 pp, per day, from the tour price if you opt for OPTION 2 on DAY 2 and/or on DAY 3.
A $1,000 per person deposit (payable by MasterCard, Visa, Discover, Diners Club, or American Express or by check drawn on a U.S. bank) along with a completed reservation form confirms your space. A second advance payment of $1,000 is due November 1, 2013. Combined, these $2,000 payments represent your "Deposit". The balance is due January 1, 2014.
Roundtrip air between Istanbul and all major U.S. gateways is NOT included. All flights within Turkey (specifically, Instanbul to Konya and then Urfa to Istanbul) ARE INCLUDED. Please see the section What's included in the costs for the complete list.

SINGLE SUPPLEMENT
$949. Single rates are capacity controlled and subject to change or withdrawal (prior to a confirmed booking) at any time.

3RD- AND 4TH-PERSON RATES
Not available.

UPGRADES
Air and/or hotel upgrades are available throughout the trip. Pricing for these change based on availability at time of request. Call or email for an estimate.

ADDITIONAL SERVICES
Air Booking ($75 pp) — this fee is assessed if we book your roundtrip U.S. to Istanbul air. This fee covers our cost to maintain your flight itinerary on your personal itinerary; plus flight schedules can change and when they do we notify you of all itinerary changes.
Refund ($30 per refund transaction or 5% of transaction value, whichever is greater) — i.e., each credit card refund or check mailed) if, after payment, you remove items (such as cancel a hotel or the pre-cruise party) or decide to change your method of payment and request a refund.
Third-Party Payor ($50 per credit card) — this fee is imposed if someone other than the people traveling is paying all or part of your event cost.
Foreign Shipping Fees — there is a foreign shipping charge of $65 (to cover the shipping of paperwork) per foreign residence ($35 per Canadian residence).
No Email-Access ($250) — this is assessed for those clients who do not have access to email or those who wish to receive all notices and updates from Insight Cruises via the Post Office. (Add an additional $25 for those residing outside the United States. The service below is included with this $250 charge.)
Over-the-phone booking ($50) — this is assessed for those new clients who "call in their booking" as opposed to filling out the online booking form. If you are a past client, because we already have your demographic data, we are happy to take your booking over the phone or via email at no charge.
Last-minute changes/additions ($50 – $150 per change/addition per person) — this will be assessed for any last-minute (within 21 days of the Day Your Travel Begins) service that is provided to you. For most last-minute changes the fee is $50 (examples: minor name corrections or last-minute additions and/or cancellations) but if the change or request is complicated and involved, the fee can be as much as $150.
Repeated Declined Credit Card(s) ($50) — this may be assessed for two or more credit card transactions that are declined.

CANCELLATIONS, REFUNDS, INSURANCE, CHANGES
Any cancellation or change of status (or request for a change in status) which relates to your booking must be transmitted as soon as possible to Insight Cruises in writing or via email. If you have travel insurance, and there is an unnecessary delay in notifying us of your change in status, your "cancellation date" will be affected and will adversely affect your insurance reimbursement.
Name changes are permitted (for a $150 fee) up until the time air tickets have been issued to Insight Cruises by Turkish Airlines. This is not a fixed date and varies by gateway — please contact us before requesting a name change.
Per person cancellation fees are based on date of notice to Insight Cruises (in writing or email):
Cancellation within 14 days of booking (prior to November 1, 2013): full refund
Cancellation more than 14 days after booking and prior to November 1, 2013: $500 cancellation fee
Cancellation on or after November 1, 2013 and prior to January 1, 2014: You forfeit your Deposit
Cancellations on or after January 1, 2014: no refund
Air and/or pre- and/or post-tour bookings, including but not limited to hotel packages are subject to the same cancellation fees cited above.
If the tour is canceled by Insight Cruises for any reason, Insight Cruises shall incur no liability beyond the refund of all tour participants' payments received. However, if Insight Cruises must cancel for reasons beyond its control, including but not limited to weather, disease, strikes, acts of God, acts of terrorism or war, Insight Cruises's liability shall be limited to a refund of only those portions of the tour cost Insight Cruises is able to recover from suppliers.
All prices are subject to change until your booking is confirmed. We will notify you of any price changes, and await your acceptance, before your reservation is considered "booked" and confirmed. Before November 1, 2013, either party may cancel the booking within 14 days of initial Deposit, with no penalty, for any reason. We'll send you an email confirmation (if you provide us with your email address) and an itemized invoice ("DEPOSIT AND FINAL PAYMENT CONFIRMATION") via mail/post within three (3) business days of your Deposit. You must return a signed copy of your DEPOSIT AND FINAL PAYMENT CONFIRMATION form within 30 days of booking or your reservation is subject to cancellation. If you do not return this form by the FINAL PAYMENT date, your reservation will automatically be cancelled and cancellation penalties will be assessed. You will be sent reminders via email and by phone before your reservation is cancelled.
Any/all lost deposits — as a result of a cancellation — for this program can be applied to any future Insight Cruise conference fee.

WHAT'S INCLUDED IN THE COSTS
All flights inside Turkey.
Eleven (11) nights at our 4-star hotels.
Twenty-eight (28) meals, including several gourmet meals: Eleven (11) breakfasts, nine (9) lunches, and eight (8) dinners.
Services of an English-speaking guide (7x24).
All land transportation (as listed on the itinerary).
Entrance fees to all sites (as listed on the itinerary).
Baggage handling; city and hotel taxes.

WHAT'S NOT INCLUDED
Air to Istanbul for the beginning of the trip and air home from Istanbul at the end of the trip.
Private transfers ($99 per vehicle) to/from our Istanbul hotel. (One group transfer will be offered on April 1 to accommodate as many of the group as is practical.)
Passports and visa fees.
Meals and activities not specifically included in the tour.
Gratuities. These will be added to your bill at $18 pp, per day.
Excess baggage charges (if charged by the airlines).
Accident, baggage, and Trip Cancellation and Interruption insurance (in addtion to what is below, details for obtaining this optional coverage will be provided with confirmation material).
Items of a person nature, including Internet access, spa, and laundry services, etc.

IDENTIFICATION REQUIREMENTS
A Passport (valid for six months after the last day of your trip) is required. Some nationalities are required to have obtain a visa to enter Turkey. If this is the case for you, will need to apply for either a visa or e-Visa. A brief explanation of the Turkish visa needs of many nationalities can be found here. Non-U.S. citizens residing in the United States will need valid Alien Registration (green) cards as well. All travel documents such as passports, visas, proof of citizenship, etc., that are required for entering Turkey, and re-entry into the country of final destination are the responsibility of the passenger. Everyone is asked to check with their government's agencies, embassies, or consulates to determine documentary requirements and/or needs for visas. You must have any required visas when boarding the airplane for Instanbul at the beginning of your trip. You will be denied boarding without proper proof of citizenship and necessary visas.

TRIP CANCELLATION & INTERRUPTION INSURANCE
Insight Cruises provides access to this insurance; Trip Insurance brochures (from M.H. Ross.com and Travel Guard) are included with your initial invoice. We prefer Travel Guard for American citizens over 65 as Travel Guard is "first payer"; M.H. is, by and large, less expensive for those younger than 65.
A few words about trip insurance — buy it.
When you book an Insight Cruise Tour, we include trip insurance brochures* in with your invoice. Please carefully consider buying this or other travel insurance.
We've never had a guest cancel because they won the lottery or had a brilliant stroke of fortune. More often than you would expect, we have had guests cancel because of pre-tour illnesses, sports injuries, broken bones, death in the family, unexpected surgery, emergency surgery, stolen passports, and general family uproar.
Life does throw curves. Spare yourself financial disappointment if your trip must be cancelled or is interrupted.
Look at all your options for trip insurance, and make certain your travel investment is protected.
*We offer two options:
1) Travel Guard Gold is best for those with limited health insurance and want a comprehensive insurance plan. Travel Guard is available with emergency assistance and travel insurance. Your coverage includes protection such as Trip Cancellation, Trip Interruption, Emergency Medical and Dental, Travel Assistance Services, Supplier Financial Default, and even Job Loss Protection. If you purchase within 10 days of your initial deposit, your medical coverage is upgraded to primary coverage. This product is ideal for those who rely on Medicare, for instance, or others who do not have health care coverage outside the United States. In addition, for those looking for "cancel for any reason" coverage, Travel Guard's Gold insurance offers it. For a 40% premium surcharge, they'll provide cancel-for-any-reason insurance reimbursing 50%. (Travel Guard Gold Cancel For Any Reason must be purchased within 10 days of your initial deposit.) Please study the details before you're certain you need this additional coverage. Travel Guard's Gold product and M.H. Ross's Advantage Bridge plan (see just below) will reimburse you 100% if you cancel for covered reasons — assuming you have insured the full cost of your trip. You can get a Travel Guard quote and purchase the insurance here.
2) Another company we have very high regard for is M.H. Ross. Read about their Bridge product here: http://InsightCruises.com/pdf/AdvantageBridge.pdf. While they do not offer the advantage of "First Payer" (i.e., you will need to submit any during-the-trip medical expenses to them after you have submitted these expenses to your primary medical insurance carrier), they will reimburse you for your out-of-pocket health expenses plus about two dozen other potential loss items. In our opinion, if you're under the age of 55, M. H. Ross's Bridge product is the most cost-effective "trip cancellation and interruption" coverage available and we heartily recommend it.

AIR TICKETS PURCHASED INDEPENDENTLY OF THE TOUR
We urge you to check airline cancellation penalties before purchasing airline tickets since international departure times and flights can change. Neither Insight Cruises or Insight Cruises' partners, co-producers, sponsors, or agents accept liability for cancellation penalties related to domestic or international airline tickets purchased independently in conjunction with Insight Cruises' events.

HOTEL ADD-ONS
Additional pre- and/or post-tour hotel stays are available through Insight Cruises. The rate is $275 per room per night (plus a $50 per person service fee applied to your pre- and post-hotel stays) and includes all taxes and breakfast. Insight Cruises offers a private transfer to/from the airport to/from our hotel for $99 (this is a total, per vehicle cost; for up to 4 people per vehicle).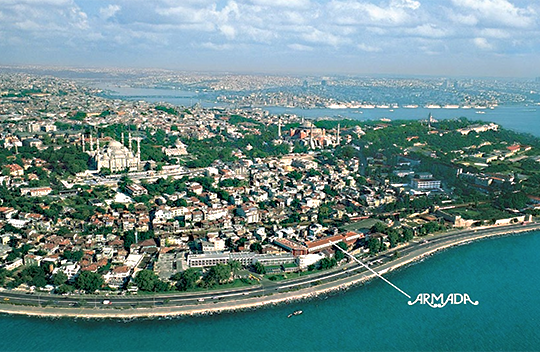 ALL ABOUT AIRFARE
Airfare from all major cities, worldwide, is available from us or the cruiseline. The cruiseline's air is often a little more expensive than buying it directly, but the advantage is that the cruiseline takes responsibility for getting you on the ship and getting you home after the cruise. For mid-winter cruises, when flights are occasionally cancelled, this is an added measure of comfort. If Insight Cruises arranges your air (through the cruiseline or with another supplier) we pass on our costs to you plus add a $75 per person service fee. If we do not book air through the cruise line we use CRC Travel; we do not charge a service fee if you book your air directly (with CRC or anyone else). Please feel free to contact Maureen directly:
CRC Travel
Maureen Feeney
2105 North Southport Avenue
Chicago, IL 60614
773-525-3800 ext 25
maureen@crctravel.com
If you want to shop for your own air, we recommend a few websites:
Baggage fees and other charges may be directly assessed by airlines or airports. Be certain to confirm all air flights 72 hours prior to departure.
We urge you to check airline cancellation penalties before purchasing airline tickets since departure times and flights can change. Neither Insight Cruises or Insight Cruises' partners, co-producers, sponsors, or agents accept liability for cancellation penalties related to domestic or international airline tickets purchased independently in conjunction with Insight Cruises' events.
Baggage and personal effects are at all times the sole responsibility of the participant (Trip Cancellation and Interruption Insurance typically provides you with an allowance to buy replacements for your trip.) Most homeowners policies, and most airlines, cover your lost luggage.

ITINERARY CHANGES
The order of our activities, on any given day, may vary from the description based on traffic and/or other considerations. Insight Cruises reserves the right to subsitute hotels, if necessary. Please note that extreme weather conditions may force changes to the advertised schedule. Insight Cruises reserves the right, without penalty, to make changes in the published itinerary whenever, in Insight Cruises' judgement, conditions warrant, or if Insight Crusies deems it necessary for the comfort, convenience, or safety of our participants.

PHOTOGRAPHY
Participants on Insight Cruises tours may be photographed for educational and promotional purposes.

SMOKING POLICY
Smoking is not allowed aboard buses or during any indoor group activity.

RESPONSIBILITY STATEMENT, LIABILITY, AND DISCLAIMER
Insight Cruises acts only as an agent for the respective suppliers by making arrangements for transportation, accommodations, and other services. Neither Insight Cruises or Insight Cruises' partners, co-producers, sponsors, or agents shall be held liable for personal injury, death, property damage or accident, delay, or irregularity arising out of any act or omission of Insight Cruises' suppliers.
If any tour member chooses not to participate in any included activity or meal, there will be no refund for that unused portion of the tour. If any tour member leaves or is removed from the tour, a refund only for refundable unused services shall be made. This tour may be sold in conjunction with the services of any airline. The passenger tickets in use by the carriers, when issued, shall constitute the sole contract between the carriers and the passenger. Carriers are not responsible for any act or omission or events during the time tour participants are not aboard their conveyances.
Insight Cruises reserves the right, without penalty, to decline to accept any person as a participant, or to require any participant to withdraw from the event at any time, when such action is determined by Insight Cruises' staff to be in the best interests of the health, safety, or general welfare of the group or the individual participant, subject only to the requirement that the recoverable portion of the total amount paid that corresponds to the cost of unused services and/or accommodations be refunded, if applicable.
AS A CONDITION OF ACCEPTANCE OF ANY APPLICATION, EACH APPLICANT MUST AGREE TO THE STATEMENT SET FORTH BELOW: The undersigned has read carefully the RESPONSIBILITY STATEMENT AND LIABILITY DISCLAIMER set forth above, the schedule of activities for this event, as well as the TERMS, CONDITIONS, and OTHER DETAILS of application and participation as set forth in the event brochure and/or the Insight Cruises webpages, and recognizes and accepts any risk associated with the event and the conditions, including the refund policy, set forth above. The undersigned further acknowledges that there are many risks and uncertainties inherent in any travel, including but not limited to the hazards of various modes of transportation, forces of nature, acts or omissions of foreign governments, terrorism, war or insurrection, theft, illness, and damage to person or property due to the negligent acts or omissions of event staff or others. In consideration of, and as part payment for, the right to participate in the event, the undersigned, on behalf of him or herself, his or her dependents, heirs, executors, administrators and assigns, agrees to release Insight Cruises and its officers, employees and agents, from liability for personal injury, death, property damage or loss suffered by any person in connection with this event, even if caused by the negligence (but not the reckless, willful, or fraudulent conduct) of event staff or other related persons or entities. In addition, by registering for this event, the applicant certifies that he or she is mentally and physically capable of full participation in this tour.
Any litigation concerning this tour shall be brought in Los Angeles County, in the State of California, pursuant to the laws of California. Changes in this Responsibility Clause can be made only in writing and signed by an officer of Insight Cruises. Deposits paid by tour participant indicate acceptance of the above terms and conditions.
BY REGISTERING FOR THIS TURKEY TOUR, THE PARTICIPANT AGREES TO THE RESPONSIBILITY STATEMENT AND LIABILITY DISCLAIMER AND THE TERMS AND CONDITIONS HEREIN.