SEVEN LAND-BASED EXCURSIONS
CLASSICAL DION
Nov. 11 (Volos) ($199 pp incl. lunch)
If you have not seen Meteora, love ancient churches and geologic splendor, by all means make the pilgrimage up 195 steps to see Moni Varlaam, and then the relatively easier-to-access Moni Aghiou Stefanou. Holland America Line will offer a day trip to this UNESCO World Heritage site.
   If you are in a more classical mood, visit Ancient Dion with us, a sanctuary to Zeus at the foot of 9,570 ft. Mount Olympus' 52 peaks. Dion was the religious center of ancient Macedon. Alexander the Great, a native Macedonian, assembled armies for his initial and Balkan campaigns in Dion, and returned victorious to make offerings at the sanctuary of Olympian Zeus. We'll visit the archaeological site and its museum, and have a Greek lunch at a local Aegean restaurant. Join us in a sojourn in a land where sacred and secular power met.
SENSORY ISTANBUL
Nov. 12 ($79 pp)
Ease into Istanbul. Come along and troll the corridors of the Spice Bazaar (aka Egyptian Bazaar) in the Fatih district. It's prime local people watching, and you can peruse the sweets, spices and nuts. (A little hazelnut-pomegranate Turkish delight, perhaps?) We'll escape from the bustle and take an evening Bosphorus cruise, passing palaces, luxury hotels, and Istanbul's landmark yali and arrive at m.s. Rotterdam in time for dinner.
ISTANBUL'S ESSENCE
Nov. 13 ($199 incl. lunch)
Istanbul is impossible to describe, and has mesmerized travelers for millennia. Layered, amalgamated, flowing. Ancient and modern, secular and sacred. Plunge into Istanbul's cultural whirlwind with our expert staff, who have been there, done that. On your itinerary: Hagia Sophia. It was the largest cathedral in the world for a thousand years, then a mosque, now a secular museum (so Istanbul). The Blue Mosque is defined by its 20,000 Iznik tiles. We'll take in the vista of the Hippodrome, one of Istanbul's oldest and most history-laden spots.
Onward to our learning lab in Turkish hospitality doing lunch at the Karakol Restaurant in Topkapi Palace's former guard-house. Then we'll immerse ourselves in the context and treasures of Topkapi, including the Treasury, Harem and Holy Relics sections. Once we've achieved total sensory overload, we'll return to our ship.
ACROPOLIS OF PERGAMON
Nov. 14 (Dikili) ($99 incl. lunch pp)
Bring your imagination and sturdy shoes and join us on a visit to the acropolis of Pergamon, an archaeological gem. At its height in the Hellenistic world, Pergamon housed one of the most important ancient libraries and parchment was developed here. Up on the acropolis, a cable car ride above town, we'll visit the Trajaneum, the amazing architecture supporting the upper agora (see here), the base of the Great Altar of Pergamon (which is at Berlin's Pergamon Museum), and the Pergamon Acropolis Theater (click image above for a larger picture), steepest in the ancient world. Pergamon is a memorable experience, and the vistas are breathtaking. On the other hand, most paths are steep, rubble strewn, and have no hand rails. If you have any walking issues (bad knees, balance issues, use "hiking poles", canes, or any mobility aid) this is not the excursion for you.
   At the foot of the Pergamon acropolis, we will see the ancient healing sanctuary of Asclepius with its Roman-era theater, the sacred spring, and the underground passageways of the site.
EPHESUS & PRIENE
Nov. 15 ($199 pp incl. lunch)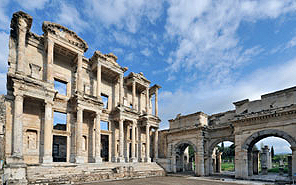 Spend a memorable morning at Ephesus where many civilizations have left their mark. It has a complex and many splendored history, often oversimplified. You'll meander the Marble Road, visit the legendary latrines, check out the Library of Celsus, visit the political and commercial centers of the city, and see Ephesus' lovely theater. A visit to the Terrace Houses will enliven your picture of Roman-era Ephesus. We will have lunch in the Ephesus vicinity. After lunch it's off to Priene. Add a 21st century layer to the palimpsest of a theater at Priene, Turkey. We have the incomparable opportunity to absorb a special reading by Miriam Laube and follow it with a brief interactive performing experience within the fourth-century B. C. Greek theater of Priene. This ancient Ionian city has one of the finest existing examples of a Hellenistic theater and we have the rare privilege of evoking the roots of theater in its native place. The Shakespeare at Sea actors will be joining us on this excursion.
BLUE VOYAGE
Nov. 16 (Marmaris) ($189 pp incl. lunch)
Have a languid day on a traditional Turkish gulet. Sail from cove to cove in clear, blue green waters where the Aegean meets the Mediterranean. Call it the Turkish Riviera or the Turquoise Coast, the lush, pine-clad hills, streams, and fine sand beaches of the Marmaris area have attracted pleasure cruisers for thousands of years. We may sail past the cove in whose waters Mark Antony and Cleopatra are said to have swum. We'll have a Turkish lunch onboard and simply live in the moment.
ATHENS
Nov. 20 (post-cruise) ($129 pp)
The Parthenon and its Acropolis setting are stunning, no doubt about it. They don't require interpretation, and compose the perfect DIY Athens excursion. On the other hand, visiting the new Acropolis Museum and the National Archaeological Museum with a skilled guide who's on your wavelength adds immeasurably to the experience. We suggest you join Shakespeare at Sea on a focused trip. You'll see the Parthenon frieze, exquisite sanctuary relics, and Archaic sculpture at the Acropolis Museum. (This excursion starts at the cruise pier and ends at our post-cruise hotel, the Metropolitan. This excursion will be visiting two museums: the Acropolis Museum [pictured below], at the base of the Acropolis, and the National Archaeological Museum. We will not be visiting the Acropolis itself.)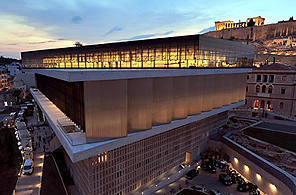 PROGRAM
Theatre History Condensed
Join Dr. Lue Douthit for a cruise-long course in the classics. Who were the actors? Who wrote the first plays? When and where did many (or most) of our theatre traditions start? This six-class series runs throughout the cruise with each lecture helping to create a broader understanding of the art.
2014 Season In Depth
Executive Director Cynthia Rider and Director of Literary Development and Dramaturgy Dr. Lue Douthit will walk you through the upcoming season with details and insights about all of the productions. These insights will enrich your season and you will be able to dazzle your friends with your knowledge!
The Boarshead
What is this? What does the Boarshead mean? Who serves on this committee? How did it start? What is discussed in Boarshead? How many plays do you read? This session will help inform your choices when you get to build your own season!
Build Your Ideal Season
It's your turn to create a season to delight fellow theatre goers. You will receive the template for an OSF rep season and choose the shows to be presented. Our panel of experts will evaluate your season and we'll all learn about the art and science of composing a theatre season. We will provide you an overview of the rules and then turn you loose — either as teams or individuals, to prepare your season.
From Anarchy to Adaptation
The evolution from playing a character to inhabiting a persona to taking on the challenge of adapting a work by said character. A conversation with Mark Bedard about the Marx Brothers, Anarchy, how much is Mark and how much is Groucho in the upcoming production of The Cocoanuts.
You Say You Love Me, Now Prove it!
So many of Shakespeare's lovers have a moment when they ask for proof of love and fidelity. A token is exchanged and a vow is made only to be tested later on. Enjoy these famous passages from some of his best known works and more insight into the 'lover's test'. Featuring Miriam, Rex, Mark and Emily with commentary by Dr. Lue Douthit.
The High Cost of Humor
The history of humor overview and what makes something funny. Is it the pratfall? The patter? The dilemma? The misunderstandings? The difference between stand-up and sitcoms. The way humor has evolved over the years. A little bit risqué, completely ribald and rollicking — or is that just Rex? Join us for this, our most dramatic session about the serious business of being funny. Featuring Rex Young and Mark Bedard.
An Illiad
Rex Young will share the story of heart ache and heartbreak in this retelling of an epic journey. This one man tour de force tells the tale of war and loss on a deeply personal level. The poet's wish in conjuring these legends one more time is that we will finally find the peace we seek. Featuring Rex Young, directed by Miriam Laube.
Greek Choral Reading
This is our time travel moment — a step back in time to the ruins of an ancient theatre in Priene. Miriam will coach everyone through a short reading of a classic piece for us to share at the theatre ruins in Priene. (One session on the ship and then onsite.) Featuring Miriam Laube.
Character Counts
How do you create a character from the text alone? What other resources do actors and directors draw from to build these stories and breathe life into what seems intangible and two dimensional at first. This session will give you an inside look into the actor's and director's process. Featuring Miriam Laube and Emily Sophia Knapp.
Say it with Song
Miriam, Emily and Mark will share a selection of songs from OSF productions past and maybe a hint of what is in the future. A few love songs, some heartwrenching ballads, a silly song or two and many of your favorites are sure to be included this evening.
The Tempest
Work through the text with our acting company and then join us for a reader's theatre rendition of Shakespeare's tale of love, loss, redemption and adventure. Featuring: YOU!
Quiz Series
How well do you know your theatre history? Your OSF history? Your Ashland Trivia knowledge? Do you know more about Broadway or the Bardway? These brainy battles will keep everyone on their toes. The winners of the Shakespeare at Sea III series will not only get bragging rights — you will also have a private set change with Thomas Curtis, champagne and strawberries with Cynthia Rider before an opening night performance of the 2014 season and a personal backstage tour with Kimberley Jean Barry. Quiz masters: Becky Ross and Doreen O'Skea.
Program subject to change.

SPEAKERS
Mark Bedard, Actor
Lue Morgan Douthit, Ph.D., Dramaturgy
Emily Knapp, Actor
Miriam A. Laube, Actor
Cynthia Rider, Executive Director
Rex Young, Actor
Speakers have confirmed their intent to participate; however, scheduling conflicts may arise.

PRICING & GENERAL INFO.

Cruise prices vary from $1,139 for an Interior Stateroom to $3,199 for a Neptune Suite, per person. For those attending our PROGRAM, there is a $1,575 fee. For detailed information and pictures of our ship and the cabins, please visit CABIN & SHIP INFO page. Additional per-person fees include government taxes and fees ($299) and gratuities ($11.50 per day). All prices and fees are detailed on the BOOK NOW page.
For a detailed listing of the cruise itinerary please review our ITINERARY page.
Use our PRICING CALCULATOR for a quick price quote! For questions, please don't hestitate in calling InsightCruises.com (650-787-5665) or emailing us.

BROCHURES & VIDEOS