ARECIBO MESSAGE
Transmission of the Arecibo message to star cluster M13 in 1974 marked the remodeling of the telescope we'll be visiting (see below). The 73 row by 23 column message depicts: the numbers one through 10; the atomic numbers of the elements hydrogen, carbon, nitrogen, oxygen, and phosphorus (the components of DNA); the formulas for the sugars and bases in the nucleotides of DNA; the number of nucleotides in DNA, and a graphic of the double helix structure of DNA; a graphic figure of a human, the dimension (physical height) of an average man, and the human population of Earth; a graphic of Earth's solar system; and, a graphic of the Arecibo radio telescope and the the physical diameter of the transmitting antenna dish. For a full explanation of this data, visit the Wikipedia page dedicated to this graphic.
Get an insiders' tour of this iconic facility, and absorb an in-depth look at the unique contributions derived from Arecibo research and development.
Join us as we wind through the rainforest-blanketed karst terrain of Northern Puerto Rico. We'll get a sense of the massive physical scope of the Arecibo radio telescope. We'll boldly go where ordinary visitors are not permitted. NAIC scientists will update us about the radio astronomy, planetary radar discoveries, and climatology research at the observatory. From the monitoring of near-earth objects to cosmology, astrophysics, and global warming research, you'll gain insight into the vital activities at Arecibo. (Optional eight-hour tour price: $175. Includes transportation, entrance fees, and a private luncheon at the Arecibo Observatory.)

BROCHURES & VIDEOS
PRICING & GENERAL INFO.
Cruise prices vary from $799 for an Inside Stateroom to $2,999 for a Full Suite, per person. (Cruise pricing is subject to change.) For those attending our PROGRAM, there is a $1,375 fee. Government taxes, cruiseline fees, and port charges are $76.71 per person. Gratuities are $11 per person per day. All prices and fees are detailed on the BOOK NOW page.
For a detailed listing of the cruise itinerary please review our ITINERARY page. Use our PRICING CALCULATOR for a quick price quote!
For questions, please don't hestitate in calling Neil Bauman or Theresa Mazich at InSightCruises.com (650-787-5665) or emailing Neil@InSightCruises.com.
PRODUCER
SPEAKERS
Jim Bell, Ph.D.
David D. Blackwell, Ph.D.
Guion S. Bluford, Jr., Ph.D.
Noah Isakov, Ph.D.
Lawrence Krauss, Ph.D.

Speakers have confirmed their intent to participate; however, scheduling conflicts may arise.
The conference fee is $1,375 and includes all seminars below. Classes only take place when we're at sea, between 8:30am and 7:30pm.
Astrophysics & Cosmology
Einstein's Biggest Blunder —
A Cosmic Mystery Story
An Atom From Boston
The Undiscovered Country
Planetary Science & Solar Systems
Postcards from Mars
Studying the Solar System in 3-D
Impact!
Searching for Life in the Solar System and Beyond
The Space Shuttle Program
The International Space Station
The Future of the Space Program
An Evening with Shuttle Astronaut Dr. Guion Bluford
Geology & Geothermal Energy
Intro to Geothermal Energy
Future of Energy — Geothermal as a Major Player
Geology and Plate Tectonics of Europe
Plate Tectonics
Immunology
Immune-Mediated Responses: A Double-Edged Sword
The Many Facets of Allergic Responses
Monoclonal Antibodies and Cancer Immunotherapy
Understanding the Roots of Cancer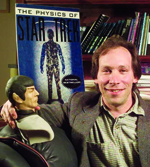 Plus, a 30-minute Q&A/open forum with the author of The Physics of Star Trek Lawrence Krauss, Ph.D.



TESTIMONIALS
Wow! What a cruise! What capable teachers! What good organization! Thank you for putting all of that together. I see the fine hand in Neil Bauman in all of it. Thanks for offering to provide copies of slides and/or tapes of the lectures. What a treasure trove! Again, many thanks.
Robert P. Littlefield, Ph.D.
<fampsy at aol.com>
Edna and I LOVED [Evolution Emanation]. The speakers and topics were fantastic.
Downey Price, M.D.
<downeyprice at hotmail.com>
[Evolution Emanation] was a highly intellectually stimulating experience ... such splendid speakers. So appreciative of all that you and Theresa did to make this possible for all of us who attended. Thanks, Neil.
Edna Price
<edna.price at hotmail.com>
We have just returned from the Bright Horizons #2 cruise and want to commend you and your staff for putting together an absolutely first rate combination of cruise line, destinations, program and speakers. We were particularly impressed with Max Tegmark, both as a lecturer and as a person. Please convey our gratitude to all the speakers. Thanks again for a perfect cruise. Let us know what else you are planning.
Dick and Elizabeth Santoro
<dicklib9 at aol.com>
I thoroughly enjoyed the Bright Horizons #2 cruise and must confess that the content of the cruise and the speakers far exceeded my expectations. Of the 26 excellent lectures, and I didn't miss a single one, I found each one equally as challenging and informative as the next. You and Randal did a magnificent job of attending to every detail and I only heard compliments of the highest order from every guest. I hope to join you on a future event cruise, so please keep me on your email list. Should you schedule another astronomy/cosmology intensive cruise, I will most certainly join you.
Perry Walton
<perrywalton at embarqmail.com>
We have been on three previous cruises, but the package you provided is by far the best. Bright Horizons #2 was a delightfully totally new experience. We were never bored! All the lectures were great and your choice of speakers and subjects is to be praised. At this time we cannot commit to another major excursion, but we can assure you that InSightCruises.com has moved to the head of our list. Thank you!!!
Larry and Kathlyn Auer
<lhainnm at mindspring.com>