MACWORLD IS THE
CO-HOST/CO-PRODUCER
BROCHURES & VIDEOS
Click a Tab for Shore Excursions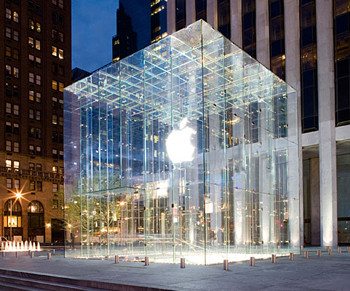 NEW YORK CITY
Sunday, May 2 & 9
Spring in Manhattan. Totally awesome. No matter how you approach your visit to the city, it surprises, inspires, and stimulates you. Museums, fabulous dining, ultimate urban walks, historic sites, performing arts, city park pleasures, and people watching abound and get you into the flow of New York.
MacMania will offer four fabulous pre-cruise "trips" the day, and evening, before we board our ship. We'll start with a casual gathering at one of Neil's favorite watering holes, mid-afternoon on Saturday, May 1. From there we'll walk a few blocks to officially kick-off MacMania 10 with our 90-minute pre-cruise cocktail party — open bar and plenty of food. After our party we'll walk off a few calories as we head downtown to visit Apple's most impressive retail store — the 5th Avenue Store (across the street from Central Park). But our pre-cruise day is hardly over! Our final stop, the Empire State Building — a one-and-a-quarter-mile stroll from "The Mecca at Central Park" — stays open until 11:30pm. And there's nothing like the midnight lights of New York City from 1000 feet up!
ST. GEORGE'S, BERMUDA — Tuesday & Wednesday, May 4–5
What qualifies an entire town for UNESCO World Heritage Site status? For St. George's (est.1612) it was both British charm — stone buildings, neatly bricked streets, heraldic signs — and the British Army and Royal Navy military installations that protected it through the centuries. Among the town's many historic strongholds is Fort Catherine, housing breathtaking replicas of Britain's Crown Jewels.
Many of the historic sites in Bermuda (as opposed to water sports sites, art gallery areas, and garden/nature sites) are in the vicinity of St. George's.
The wreck of the 17th-century English sailing ship Sea Venture at Bermuda is widely believed to be one of the elements which inspired William Shakespeare's play The Tempest.
HAMILTON, BERMUDA — Wednesday–Friday, May 5–7
Bermuda's commercial and governmental hub lies in the city of Hamilton. It's a stepping off point for an exploration of galleries and artist's studios, water sports, architecture, gardens, and memento shopping.
SPEAKERS
Andy Ihnatko • Josimar King
David Pogue • Rich Siegel
Jason Snell • Sal Soghoian
Derrick Story • Bebo White

Speakers have confirmed their intent to participate; however, scheduling conflicts may arise.

PRICING & GENERAL INFO.
Cruise prices vary from $899 for an Inside Stateroom to $2,899 for a Full Suite, per person. (Cruise pricing is subject to change.) For those attending our PROGRAM, there is a $1,095 fee. Taxes are $119 per person. Gratuities are $11 per person per day. All prices and fees are detailed on the BOOK NOW page.
For a detailed listing of the cruise itinerary please review our ITINERARY page.
Use our PRICING CALCULATOR for a quick price quote! For questions, please don't hestitate in calling Neil Bauman at InSightCruises.com (650-787-5665) or emailing Neil.

iPhoto '09
iMovie '09
iWeb '09
iDVD '09
iPhone: The Next Generation
Inside Mac OS X "Snow Leopard"
David Pogue's Efficiency Handbook
How I Did It: A Course in High Impact Photography
Digital Photography: The Missing Manual
Getting the Most Out of Aperture
GarageBand '09
Pages '09
Numbers '09
Keynote '09
iPhone App Gems
Photographers: Work More Efficiently in Photoshop CS4
Up, Up, and Away with Cloud Computing
Introduction to AppleScript
Automator A to Z?
Services in Snow Leopard
Social Networking — Why and How?
Making a House Network Into a Home Network
1000 Tips in 90 Minutes
The Nooks and Crannies of the MAC OS
iPhone Fully Loaded
Apple Does Video
Mac Gems
Our program is offered when we're at sea. This program is subject to change, though these web pages will be kept up to date.