INSIDER'S TOUR OF MIT
THE GRAND FINALE:
Private tour of the MIT campus and luncheon/tour at the MIT Museum
(June 5, 11am–3pm)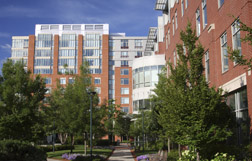 Max Tegmark, Ph.D. Professor of Physics at The Kavli Institute for Astrophysics & Space Research at MIT, along with some of his MIT associates, will direct our private "insiders" tour of the MIT campus and research facilities.
After our campus tour we'll break for lunch in the MIT Museum. We'll then continue with our private tour—inside the museum. [from Wikipedia:] MIT Museum, founded in 1971, is the museum of the Massachusetts Institute of Technology, located in Cambridge, Massachusetts. It hosts collections of holography, artificial intelligence, robotics and history of MIT. Its holography collection of 1800 pieces is the largest in the world, though not all of it is exhibited. (This tour is optional and costs $95 per person. Lunch and a one-way transfer from pier to MIT are included.)

BROCHURES & VIDEOS
PRICING & GENERAL INFO.
Cruise prices vary from $999 for an Inside Stateroom to $3,599 for a Full Suite, per person. (Cruise pricing is subject to change.) For those attending our PROGRAM, there is a $1,275 fee. Government taxes, cruiseline fees, and port charges are $105 per person. Gratuities are $11 per person per day. All prices and fees are detailed on the BOOK NOW page.
For a detailed listing of the cruise itinerary please review our ITINERARY page. Use our PRICING CALCULATOR for a quick price quote!
For questions, please don't hestitate in calling Neil Bauman or Theresa Mazich at InSightCruises.com (650-787-5665) or emailing Neil@InSightCruises.com.

PRODUCER
SPEAKERS
Kathleen Howell, Ph.D.
Paul Rozin, Ph.D.
David Sadava, Ph.D.
Max Tegmark, Ph.D.
NY Times Science Podcast
interview with Dr. Tegmark


Speakers have confirmed their intent to participate; however, scheduling conflicts may arise.

TESTIMONIALS
Wow! What a cruise! What capable teachers! What good organization! Thank you for putting all of that together. I see the fine hand in Neil Bauman in all of it. Thanks for offering to provide copies of slides and/or tapes of the lectures. What a treasure trove! Again, many thanks.
Robert P. Littlefield, Ph.D.
<fampsy at aol.com>
Edna and I LOVED [Evolution Emanation]. The speakers and topics were fantastic.
Downey Price, M.D.
<downeyprice at hotmail.com>
[Evolution Emanation] was a highly intellectually stimulating experience ... such splendid speakers. So appreciative of all that you and Theresa did to make this possible for all of us who attended. Thanks, Neil.
Edna Price
<edna.price at hotmail.com>
We have just returned from the Bright Horizons #2 cruise and want to commend you and your staff for putting together an absolutely first rate combination of cruise line, destinations, program and speakers. We were particularly impressed with Max Tegmark, both as a lecturer and as a person. Please convey our gratitude to all the speakers. Thanks again for a perfect cruise. Let us know what else you are planning.
Dick and Elizabeth Santoro
<dicklib9 at aol.com>
I thoroughly enjoyed the Bright Horizons #2 cruise and must confess that the content of the cruise and the speakers far exceeded my expectations. Of the 26 excellent lectures, and I didn't miss a single one, I found each one equally as challenging and informative as the next. You and Randal did a magnificent job of attending to every detail and I only heard compliments of the highest order from every guest. I hope to join you on a future event cruise, so please keep me on your email list. Should you schedule another astronomy/cosmology intensive cruise, I will most certainly join you.
Perry Walton
<perrywalton at embarqmail.com>
We have been on three previous cruises, but the package you provided is by far the best. Bright Horizons #2 was a delightfully totally new experience. We were never bored! All the lectures were great and your choice of speakers and subjects is to be praised. At this time we cannot commit to another major excursion, but we can assure you that InSightCruises.com has moved to the head of our list. Thank you!!!
Larry and Kathlyn Auer
<lhainnm at mindspring.com>

The conference fee is $1,275 and includes all seminars below. Classes only take place when we're at sea, between 8:30am and 7:30pm.
Astrophysics & Cosmology
A Brief History of Our Universe
The Mysterious Dark Side of Cosmology: Dark Matter and Dark Energy
How Did It All Begin — Or Did It? How Will It All End?
Questions, I've Got Questions: Black Holes Edition
Parallel Universes
Cosmology and the Meaning of Life
Astrodynamics
Astrodynamics: Natural Orbits from Epicycles to Chaos
Mission Design: Exploring the Solar System
Solar Sailing
What is the Interplanetary Superhighway?
Genetics: The DNA of Life
The personal genome and human individuality
Genetics and the transformation of medicine
Cloning of plants and animals, and the potential of stem cells
Genetics, farming, and food
The Psychology of Food
Obesity and Unhealthy Food Choices in Cultural Perspective: Some French-American Comparisons
The Emotion of Disgust: From Toilet to Terrorism
Lay Thinking About Risks: Hunter-Gatherer Thinking in The 21st Century
Psychological, Cultural and Biological Perspectives on Some Foods: Water, Spices, Meat and Chocolate
Canada: An Introduction
Canada: a huge, scenic country with a small population of polite, peaceful people, some of whom speak French. Is that it? Join David Sadava, one of our lecturers who is a dual Canadian and U.S. citizen and who has worked in the Canadian government, for some fascinating insights on the foreign (yes, it really is foreign) country we are visiting. He will field your questions about how Canada is governed (yes, they have a Queen), how Canadians have met the challenge posed by a bicultural society (English- and French-speakers try to get along), and how Canada differs from its neighbor to the south (a Canadian politician once compared it to sleeping with an elephant).