PRE-CRUISE TOUR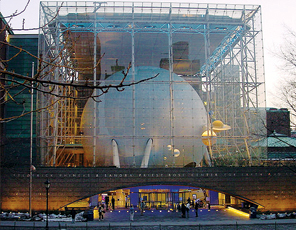 SCIENCE IN NEW YORK CITY
Saturday, May 7, 2011 (optional)
Spring in Manhattan. Totally awesome. No matter how you approach your visit to the city, it surprises, inspires, and stimulates you. Museums, fabulous dining, ultimate urban walks, historic sites, performing arts, city park pleasures, and people watching abound and get you into the flow of New York. Join Scientific American on our optional pre-cruise science day in New York City.
Wake up in the city that never sleeps, and we'll meet at 9am at the Rose Center for Earth and Space (above) at the American Museum of Natural History for a private insiders' tour. Get the inside scoop on research being done at the Rose Center — our day here includes a behind-the scenes tour of their telescope/optics labs; a spaceshow/journey to the stars in the Hayden Planetarium; a private 40-minute lecture about the Hubble Space Telescope from our host, Dr. Michael Shara; and finally we'll gain a new perspective on space with the Scales of the Universe. Our five-hour day at the Rose Center includes a catered lunch. After our astronomy sojourn, we'll reconvene in lower mid-town Manhattan, at the Scientific American headquarters, for an early evening social reception, with dinner to folllow, with Scientific American staffers.

During our visit, the Curator of the Einstein exhibit, Michael M. Shara, Ph.D. will deliver the following lectures:
Einstein's Revolution
He was daring, wildly ingenious, passionately curious. He saw a beam of light and imagined riding it; he looked up at the sky and envisioned that space-time was curved. Albert Einstein reinterpreted the inner workings of nature, the very essence of light, time, energy and gravity. His insights fundamentally changed the way we look at the universe — and made him the most famous scientist of the 20th century.
We know Einstein as a visionary physicist, but he was also a passionate humanitarian and anti-war activist. Born a German Jew, Einstein truly considered himself a citizen of the world. His celebrity status enabled him to speak out — on global issues from pacifism to racism, anti-Semitism to nuclear disarmament. "My life is a simple thing that would interest no one," he once claimed. But in fact, his letters, notebooks and manuscripts tell a dramatically different story.
Einstein saw the universe as a puzzle, and he delighted in trying to solve its mysteries. All he needed to contemplate the cosmos was his most valuable scientific tool — his imagination.

10 Discoveries from the Hubble Space Telescope
In the 20 years it has been in orbit, Hubble has revolutionized our understanding of how the universe works. Images from the telescope have become iconic forms of modern art. And lurking in each image is new science. Dr. Shara will describe 10 remarkable discoveries made with the Hubble, and show how its images reveal something we've never seen or understood before.

(Optional tour price: $395. Includes transportation, entrance fees, lunch at the Rose Center, cocktail reception and dinner at Scientific American headquarters. This tour is limited to 25 people.)

Explore a mysterious realm, the subject of myth, speculation, and theory …
While you linger in a vertex of the Bermuda Triangle, delve into secrets, questions, and emerging evidence about the human brain. Get a clear look at the latest in cognitive science, particle physics, and American archaeology. Join Scientific American and fellow inquiring minds on Bright Horizons 9, an effortless and exuberant Bermuda jaunt, round trip New York City on Holland America Line's m.s. Veendam, May 8–15, 2011.
Updated on Bright Horizons 9, you'll bring a breath of rational fresh air to discussions of evolution, the paranormal, and urban legends. Make waves with a look at gender and the brain. Examine how virtual reality impacts face-to-face life. Satisfy your curiosity about the persistent appeal of extra dimensions. Fill in the blanks in Colonial American archaeology and cultural anthropology with a discerning look at Florida and the southeastern United States.
Prepare to simultaneously kick back, and sharpen your science sense on Bright Horizons 9.

Click a Tab for Shore Excursions
ST. GEORGE'S, BERMUDA — Tuesday & Wednesday, May 10–11
What qualifies an entire town for UNESCO World Heritage Site status? For St. George's (est.1612) it was both British charm — stone buildings, neatly bricked streets, heraldic signs — and the British Army and Royal Navy military installations that protected it through the centuries. Among the town's many historic strongholds is Fort Catherine, housing breathtaking replicas of Britain's Crown Jewels.
Many of the historic sites in Bermuda (as opposed to water sports sites, art gallery areas, and garden/nature sites) are in the vicinity of St. George's.
The wreck of the 17th-century English sailing ship Sea Venture at Bermuda is widely believed to be one of the elements which inspired William Shakespeare's play The Tempest.
HAMILTON, BERMUDA — Wednesday–Friday, May 11–13
Bermuda's commercial and governmental hub lies in the city of Hamilton. It's a stepping off point for an exploration of galleries and artist's studios, water sports, architecture, gardens, and memento shopping.
SPEAKERS
Nancy C. Andreasen M.D, Ph.D.
Jeremy Bailenson, Ph.D.
Jerald T. (Jerry) Milanich, Ph.D.
Michael Shermer, Ph.D.
Max Tegmark, Ph.D.


Speakers have confirmed their intent to participate; however, scheduling conflicts may arise.

BROCHURES & VIDEOS
PRICING & GENERAL INFO.

Cruise prices vary from $799 for an Interior Stateroom to $2,899 for a Full Suite, per person. (Cruise pricing is subject to change.) For those attending our PROGRAM, there is a $1,275 fee. Government taxes, cruiseline fees, port charges, and an InSight Cruises fee totals $169 per person. Gratuities are $11 per person per day. All prices and fees are detailed on the BOOK NOW page.
For a detailed listing of the cruise itinerary please review our ITINERARY page.
Use our PRICING CALCULATOR for a quick price quote! For questions, please don't hestitate in calling Neil Bauman at InSightCruises.com (650-787-5665) or emailing Neil.

The conference fee is $1,275 and includes all 15 seminars below. You may take every class — i.e., there will be no overlap as only one class will be going on at any one time. With two partial exceptions, classes only take place when we're at sea, between 8:30am and 7:30pm.
NANCY C. ANDREASEN, M.D., PH.D.
JEREMY BAILENSON, PH.D.
JERRY MILANICH, PH.D.
MICHAEL SHERMER, PH.D.
MAX TEGMARK, PH.D.