FIVE LAND-BASED DAY TRIPS
INSIDER'S TOUR OF CERN
Private tour of CERN and luncheon
September 27, 2011 (pre-cruise) ($299 pp)
From the tiniest constituents of matter to the immensity of the cosmos, discover the wonders of science and technology at CERN. Join Bright Horizons for a private pre-cruise, custom, full-day tour of this iconic facility.
Whether you lean toward concept or application there's much to pique your curiousity. Discover the excitement of fundamental research and get a behind-the-scenes, insider's look of the world's largest particle physics laboratory.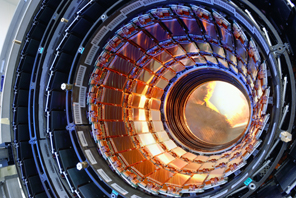 Our full day will be led by a CERN physicist. We'll have an orientation; visit an accelerator and experiment; get a sense of the mechanics of the large hadron collider (LHC); make a refueling stop for lunch; and have time to peruse exhibits and media on the history of CERN and the nature of its work.
The price is $299 and includes lunch at CERN and roundtrip transfers to/from our Geneva hotel. NOTE: CERN charges no entrance fee to visitors.
This trip is limited to 50 people. For questions and hotel pricing, please contact Neil or Theresa, or give us a call at (650) 787-5667.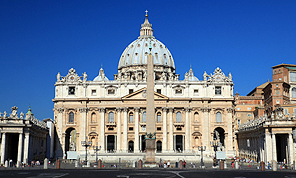 VATICAN
September 30, 2011 (pre-cruise) ($159 pp)
Vatican City is home to some of the most famous art in the world and is a UNESCO World Heritage Site. The Sistine Chapel alone hosts world famous frescos, including works by Perugino, Domenica Ghirlandaio, Boticelli, Raphael and Fra Angelico as well as the ceiling and Last Judgement by Michelangelo.
Join InSight Cruises for an exclusive, five-hour tour of the Vatican. You will be in a group of no more than ten people plus an expert tour guide. Included with your tour is a "no-lines" entrance pass and headphones for superior listening to our tour guide. Your experience includes a a visit inside the Sistine Chapel, highlights of the Vatican Museums, and a close look at the interior of St. Peter's Basilica. Your guide will lead you off the beaten track for a trip into the Michelangelo-designed Vatican Dome (you can trek to the top, and gaze down into the church interior, or remain at a cafe on the roof of the Basilica, taking in superb views of Vatican City and Rome).

VATICAN OBSERVATORY
September 29, 2011 (pre-cruise) (SOLD OUT)
When in Rome, do as the Romans who are astronomy buffs wish they could do—visit to the new digs of the Vatican Observatory and get a privileged look at its world-class meteorite collection. Join Bright Horizons on an optional pre-cruise trip to Castel Gandolfo, Italy on a private insider's tour of the Observatory's laboratory, home to a 135 kg collection of 1081 samples, from 469 meteor falls. See a bit of Mars on your Mediterranean trip!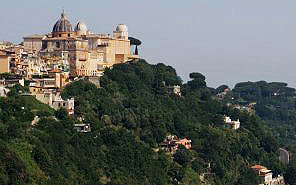 Perhaps almost more intriguing is the Observatory's library. We'll browse over the shoulders of giants, seeing historic and antique astronomy books including early editions of Newton, Copernicus, Galileo, Kepler, Brahe, Clavius, and Secchi. VO astronomers will brief us on the Vatican's interest in astronomy and the latest on VO research at Steward Observatory, Mount Graham, Arizona. We'll lunch on the shores of Lake Albano, an extinct volcano, and linger to enjoy the scenic and historic nature of the Castel Gandolfo area before returning to the bustle of Rome. (This trip is limited to 20 people; gormet lunch included as well as roundtrip transfers to/from our Rome hotels.)

ISTANBUL
October 6, 2011 ($119* pp)
Istanbul is impossible to describe, and has mesmerized travelers for millennia. Layered, amalgamated, flowing. Ancient and modern, secular and sacred. Plunge into Istanbul's cultural whirlwind with Bright Horizons staff, who have been there, done that. On your itinerary: Hagia Sophia. It was the largest cathedral in the world for a thousand years, then a mosque, now a secular museum (so Istanbul). The Blue Mosque is defined by its 20,000 Iznik tiles. We'll peruse the sweets, spices, and nuts at the Spice Bazaar (A little hazelnut-pomegranate nougat, perhaps?).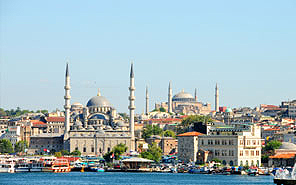 Onward to our learning lab in Turkish hospitality, doing lunch at Topkapi Palace's former guard house. Then we'll immerse ourselves in the context and treasures of Topkapi, including the Treasury, Harem, and Holy Relics sections. Risking total sensory overload, we'll conclude our day at the Istanbul Archaeology Museum.

EPHESUS
October 11, 2011 ($105* pp)
Many civilizations have left their mark at Ephesus. It's a complex and many splendored history, often oversimplified. Bright Horizons pulls together three important aspects of understanding Ephesus which are rarely presented together. Join us! You'll meander the Marble Road, visit the legendary latrines, check out the Library, and visit the political and commercial centers of the city. A visit to the Terrace Houses will enliven your picture of Roman era Ephesus.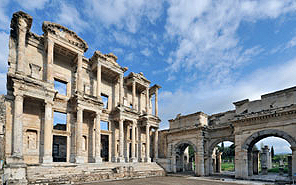 We'll take a break for Mediterranean cuisine in the Selcuk countryside, and then visit the Ephesus Museum in Selcuk, where finds from the excavation of the city are showcased, and you get a fuller look at local history, from the Lydians to the Byzantines.

ATHENS
October 12, 2011 ($135* pp)
The Parthenon and its Acropolis setting are stunning, no doubt about it. They don't require interpretation, and compose the perfect DIY Athens excursion. On the other hand, visiting the new Acropolis Museum and the National Archaeological Museum with a skilled guide who's on your wavelength adds immeasurably to the experience. We suggest you join Bright Horizons on a focused trip. You'll see the Parthenon frieze, exquisite sanctuary relics, and Archaic sculpture at the Acropolis Museum (picture below; as you can see, the museum sits just below the Acropolis).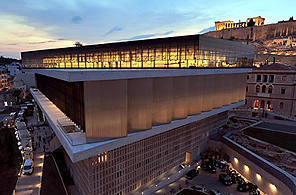 Lunch, of course, is tucked away at a taverna favored by Athenian families. For dessert, we'll visit the richest array of Greek antiquities anywhere — at the National Archaeological Museum.
*NOTE: The cost of lunches are not included but we'll make all of the reservations and provide all transportation.