PRE-CRUISE TOURS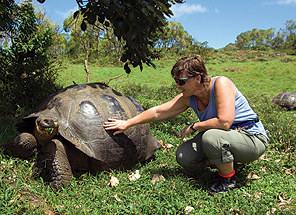 GALAPAGOS
February 12 – 20, 2013 ($4,999 pp*)
Enter an unearthly natural world in an eight-day pre-cruise excursion to the Galapagos Islands. "See the world in a grain of sand" and hone your knowledge of evolution with your observations in the Galapagos, a self-contained natural history laboratory. We'll tour Santiago, Chile, and straddle the Equator at the "Middle of the World" complex in Quito, Ecuador. Then off to the Galapagos for a four-night/five-day expedition on the mv Galapagos Legend. Accompanied by certified naturalists see the incredibly diverse flora and fauna up close. You'll have the opportunity to swim and snorkel, and photograph legendary wildlife and wild landscapes. The package price includes all transportation, 4-night hotel accommodations in Chile and Ecuador, a 4-night Galapagos cruise, nearly all meals (19 in all), guides, escort, gratuities, and tours.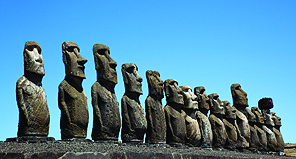 EASTER ISLAND
February 16 – 20, 2013 ($2,249 pp*)
The moai of Easter Island linger in many a mind's eye, monumental statues gazing inland, away from the South Pacific. Join Bright Horizons on a four-day pre-cruise excursion to explore the mysteries of Rapa Nui. Visit archaeological sites, learn about the complex cultural and natural history of the island, and absorb the ambiance of one of the most remote communities on Earth. Come along on an adventure where archaeology and environment create memories and food for thought. (We'll be staying in the Hangaroa Eco Village & Spa.)
»» Easter Island Trip Details »»
MACHU PICCHU
February 15–20, 2013 ($4,499 pp*)
Scale the Andes and absorb Machu Picchu's aura. Visit this legendary site of the Inca World, draped over the Eastern slopes of the Peruvian Andes, wrapped in mystery. Whether it was an estate for the Inca emperor Pachacuti or a site for astronomical calculations, it captures the imagination. Visit Machu Picchu, and see for yourself the massive polished dry-stone structures, the Intihuatana ("Hitching Post of the Sun"), the Temple of the Sun, and the Room of the Three Windows. Iconic ruins, rich flora and fauna, and incomparable views await your eye (and your lens).
»» Machu Picchu Trip Details »»
*NOTE: Costs are per person, based on double occupancy.

SPEAKERS
Gary Lagerloef, Ph.D.
Victor A. Ramos, Ph.D.
Michael Shermer, Ph.D.
Seth Shostak, Ph.D.
Christopher Sorensen, Ph.D.
Joao Varela, Ph.D.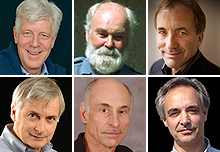 Speakers have confirmed their intent to participate; however, scheduling conflicts may arise.

PRICING & GENERAL INFO.

Cruise prices vary from $1,599 for an Interior Stateroom to $5,599 for a Deluxe Suite, per person. (Cruise pricing is subject to change.) For those attending our SEMINARS, there is a $1,575 fee. Taxes, Port Charges, and an Insight Cruises' fee are $336 per person. All prices and fees are detailed on the BOOK NOW page.
For a detailed listing of the cruise itinerary please review our ITINERARY page.
Use our PRICING CALCULATOR for a quick price quote! For questions, please don't hestitate in calling Neil Bauman at InsightCruises.com (650-787-5665) or emailing Neil.

BROCHURES, VIDEOS, & PICTURES
The conference fee is $1,575 and includes all 24 seminars below. You may take every class — i.e., there will be no overlap as only one class will be going on at any one time. Classes only take place when we're at sea, between 8:30am and 7:30pm.
GARY LAGERLOEF, PH.D.
VICTOR A. RAMOS, PH.D.
MICHAEL SHERMER, PH.D.
SETH SHOSTAK, PH.D.
CHRIS SORENSEN, PH.D.
JOAO VARELA, PH.D.
POST-CRUISE TOUR
IGUAZU FALLS and BUENOS AIRES
March 5 – 8, 2013 ($1,999 pp)
Surround yourself with 260 degrees of 240 foot-high walls of water at Iguazu Falls. Straddling the Argentinian-Brazilian border, Iguazu Falls is split into about 270 discrete falls and at peak flow has a surface area of 1.3 million square feet. (By comparison, Niagara Falls has a surface area of under 600,000 square feet.) Iguazu is famous for its panoramic views and breath-taking vistas of huge sprays of water, lush rainforest, and diverse wildlife.
Day 1 (March 5) — Buenos Aires. Disembark, then fly to Iguazu. Tour of the Argentine side of the falls. The evening is on your own. Overnight Iguazu.
Day 2 — Iguazu Falls. Breakfast. Iguazu means "great water", and after today you will understand why. Here are falls taller than Niagara and twice as wide! On today's tour of the Argentine side of the falls (they span into Brazil as well), you'll experience the thunder and mist of Iguazu's more than 275 cascades. Overnight Iguazu.
Day 3 — Iguazu/Buenos Aires. Breakfast, then fly to Buenos Aires. Afternoon city sightseeing tour. Visit to La Recoleta Cemetery, where many famous Argentenians are buried. Overnight in Buenos Aires.
Day 4 (March 8) — Buenos Aires. Breakfast, then rest of the day at leisure. Late check out available until 6:00 pm. Transfer to the airport for your flight home.
»» This is a Holland America Tour »»